What Does A House Clearance Involve?
Many of us have been in a situation where we want to clean out the garage or need to clear out a whole property post-tenancy. It can be stressful and it's easy to get overwhelmed as you try to figure out what you should do with the items that need to go. A house clearance service can help you out massively, but there are some things you should know before hiring one.
What Is Involved In A House Clearance Service? 
House clearance removals involve a team of people coming to your property and removing what you no longer need from the site – whether it's a full or partial removal of items. This includes furniture, appliances, fixtures, and fittings as well as any items that may be lurking in cupboards or hidden away on shelves. A house clearance service will also dispose of any unwanted materials properly at a recycling centre as they should possess all of the required licenses and permits required to do so.
The services that our team at Bellview Transport offers are extremely flexible, so if you only need a few items removed or need to clear out an entire property before your new furniture is delivered, we can adapt to meet your requirements!
Pros & Cons Of House Clearance
There are advantages and disadvantages to house clearance services depending on your situation.
Pros:
Time-saving: You do not have to spend hours planning and sorting out your house. You can spend time with your family rather than sorting through items on your property.
Space-saving: declutter your home and make more space for your loved ones.
Stress-free: You do not have to worry about hiring a van, loading items, and driving them yourself. Our team does all the planning and heavy lifting for you so that you can focus on other things whilst we clear your property.
Cheaper than storing items: It's cheaper than renting storage space.
Environmentally friendly: A house clearance company will do its best to recycle unwanted items.
Cons:
Sentimental value: It can be difficult to get rid of sentimental items.
More costly for large clearances: The service has a fee and depends on the volume of items removed.
Less control: You do not have full control over what happens to your items (for example you can't sell them).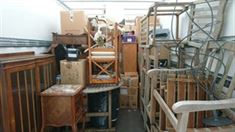 Contact Bellview Transport Today!
Bellview Transport is a house clearance company with over 30 years of experience. We specialise in house clearance services and provide services around the Oxford area. Our team is fully insured and has an Environment Agency license which ensures that all items disposed of are done so safely and legally.
We feel that customer service should always be our number one priority – that's why we never let you down, take all considerations seriously, and strive for more than just delivering the "man in a van" service. You can trust us to cater to your needs as well as find solutions to any issues which may arise on the day of your house clearance. So why wait? Contact us today to discuss your house clearance needs!