How To Organise Your Storage Unit Properly
At Belview Transport, we take our business incredibly seriously. After all, your storage and transport is something that needs to be completed in the most stress-free and time-sensitive way possible.While we will provide all the help you need, let's take a look at how you can organise your storage unit properly to make the service work best for you.
Top Tips For Self-Storage Organisation
When it comes to self-storage units, many people usually think of units that are cluttered with broken belongings and scattered with old boxes. However, when it comes to retrieving your goods from your unit, this storage method is going to cause you lots of problems because there is no organisation. So, how do you organise your self-storage unit?
Being prepared is always the most effective way of performing a task, follow these top tips to organise your belongings quickly and efficiently.
1. Label Your Boxes
If you're hiring storage units to rent, whether they're short-term storage units or long-term storage units, make sure that your boxes are correctly labelled. Doing so will ensure you can find the items you need specifically, the next time you visit your unit.
When you open up a full storage unit, the number of boxes you've accumulated can be daunting. Finding the right one you need is far easier if you've labelled it. Placing the items in alphabetical order or categories will allow you to retrieve your belongings quickly.
2. Use A Mixture of Cardboard & Plastic Boxes
Sometimes a plastic box may be necessary as it can make finding things much easier, especially if you have a lot of belongings. If you're intending to store small items in your storage units, consider how hard it will be to find them again. Transparent storage containers make it easier to locate the items faster and also mean you avoid having to label every container.
A cardboard box offers more support, however, so is the preferred option when you're storing heavier items. They're more durable than plastic too, which decreases the risk of the box breaking during transport.
3. Keep Fragile Items In Mind
Most of the time we need to store some glasses, pottery, antiques, or electrical items. These items need to be carefully considered when storing them, as they could easily break amongst the other stored goods.
Use bubble wrap and additional tape when sealing up your boxes to give them added protection.
4. Heaviest To The Bottom
When stacking your boxes, make sure that your heaviest goods are at the bottom of the pile. Not only would it create a health and safety hazard for anyone in your unit, but the heavier items may crush and damage your belongings.
5. Put The Most Used Items To The Front Of The Unit
If you think you will need a particular item or box in the near future, there is no point in stashing it at the back of the storage unit. Keep these items at the front of the unit for easy access when you next visit.
6. Create A Pathway
There is nothing worse than opening up your storage unit and finding no way to get inside. This is what can happen when there's clutter.
Make sure that your items are stacked in a way that allows you to manoeuvre around them. Creating a path to all your possessions, so they're easy to access when you need them.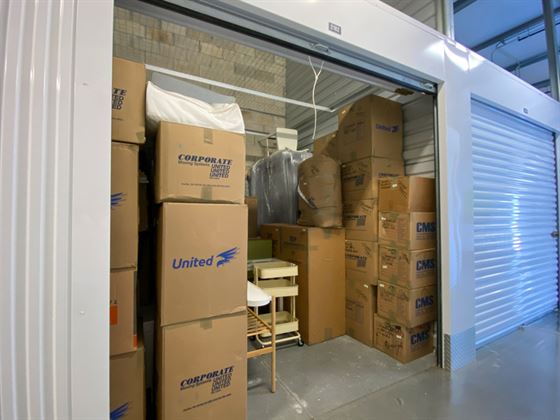 Why You Should Consider Using Bellview Transport's Self Storage Units
We don't always have the space in our homes or business to store everything. Whatever your needs are, it's an excellent idea to rent a storage unit through Bellview Transport's self-storage units.
We're based in Oxford and are a well-known storage company, trusted by our customers to provide a great service and most importantly, keep your possessions safe.
Our team has extensive experience in the industry and all our self-storage units have high-quality security features. If you're looking for storage units to rent in the short or long term, we have you covered.
Get in touch with our team on 01865 744993 or contact us on our website by clicking here.