Moving House Checklist For 2022
Are you moving house in 2022? If so, you can use this handy moving house checklist to make sure that everything goes smoothly! This list includes all the important things that you'll need to do in order to prepare for your move – from hiring a domestic removals company to turning off all utilities.
Checklist For 2-3 Months Before The Move
The secret to a smooth move is to start planning as early as possible. The more time you have to plan, the less stressful the process will be. Two to three months before your moving date, you can:
Make a list of all the things you need to do in order to prepare for the move: This will help you stay organised and on track.
Start collecting boxes and packing materials: You can usually find these for free at local stores or online.
Start decluttering your home: The less stuff you have to move, the easier it will be. Plus, it's a great way to save money on moving costs!
Things To Do 1 Month Before The Move
One month before you move, you can:
Research domestic removals & storage companies and book one: Get quotes from several different companies and compare prices. Also consider other house removal services if required. Make sure you book one once you have decided on the best choice, as they may not be available if you try and book them later.
Finalise your moving plans: Make sure you have all the necessary contact information for your movers, storage unit, etc.
Plan which items will go in which box: This will make unpacking much easier! You can place each box in their designated rooms too, so you're all ready to fill them up.
Schedule disconnection and connection dates for utilities: Make sure you have all of your new utility information ready to go.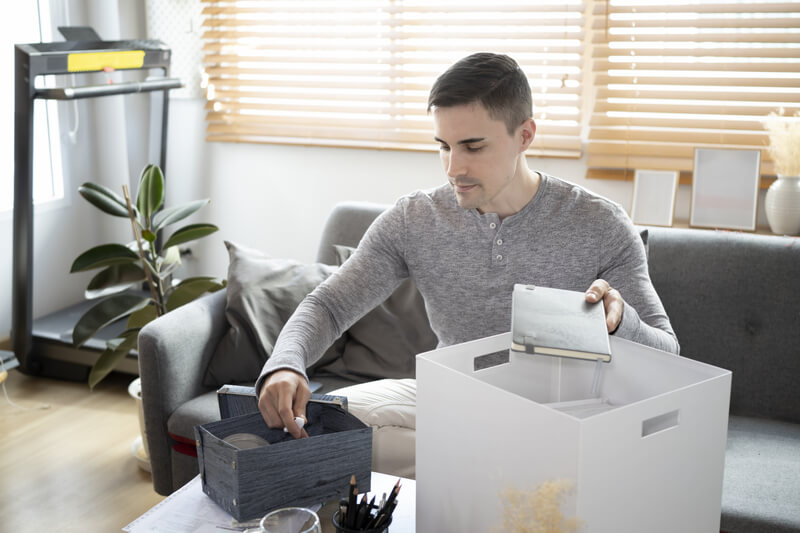 2 Weeks Before The Move!
Now that the date is getting closer, there are a few things you'll need to do in order to get ready:
Begin packing non-essential items: Start with things like clothes and kitchenware that you won't need in the weeks leading up to the move.
Label all of your boxes: This will make it easier for you and your movers to know where everything goes.
Take an inventory of more expensive items: This will help you keep track of everything during the move, and make sure you have insurance in case anything gets damaged.
1 Week Checklist
In the week leading up to your move, you should:
Pack and label any remaining items: Make sure everything is packed and ready to go! Make sure you pack important documents and paperwork together so you don't lose them.
Clean your home: This will help make it easier for the new owners or renters once you've moved out. It will also ensure you get your deposit back if you are renting.
Return any rented equipment: Make sure everything is returned on time and in good condition.
Moving Day!
On the day of your move, you should:
Pack a 'moving essentials' bag: This should include things like toiletries, snacks, a change of clothes, etc. You'll need this when you're unloading the truck at your new home.
Double check that everything is packed and ready to go: This includes making sure you haven't left anything behind.
Do a final walkthrough of your home: Make sure you haven't missed anything, and that everything is in good condition.
Coordinate with the movers of your chosen domestic removals company: Make sure you know when they will be arriving and what time they will be leaving.
Do a final sweep: You don't want to leave any dirt or dust behind for the new owners!
Turn off all utilities and take readings: Don't forget to turn off the water, gas, and electricity before you leave.
After you've completed all of these steps and actually moved house of course, you can finally relax and enjoy your new home! Congrats on making it through the moving process. We hope this checklist helped to make things a little easier for you. Happy moving! Feel free to give our team a call on 01865 744993 today if you need help moving from your house to a home.