Top 5 Moving & Home Removals Tips
Moving to a property home is an exciting time, be it moving to a new house or finding new premises for your business, but taking on too much can quickly turn what should be an enjoyable moment in your life into a stress-filled event.
However, it doesn't have to be like that, and with a few key tips, the moving process can be just as you imagined. Here are our top tips for making a simple, stress-free, and efficient move to your brand-new home.
Tips To Help With Moving House
Choose A Home Removals Company Early
Choosing the right home removals company is not something you want to arrange at the last minute. Be sure to do your research and look at reviews to know you will be using a reliable company. At Bellview Transport, we're a removals company based in Oxford with over thirty years of experience in the industry and our reviews that can assure you that your possessions will be in good hands.
Remember, you are ultimately trusting the removals company with some of your most valuable belongings. Sought-after removal companies will get booked up quickly, so make sure you book well in advance of moving house to avoid disappointment.
Organise Belongings
Start organising your belongings by having a big declutter of the property to get rid of anything you won't be taking with you. You can donate, recycle or throw away any old possessions to save yourself time when it comes to boxing up your belongings. Make sure you have plenty of strong packing boxes, all ready for when you need to start packing everything up.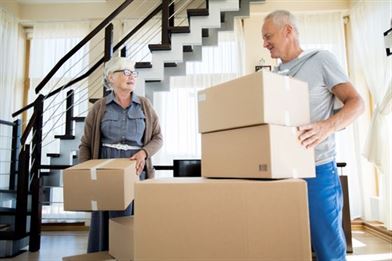 List Down All Items
You may wish to use a list or timeline to write down the main items you will be taking on the move and at what stages you will be doing so. Readily made lists of home essentials are easily found online but you can choose to add your personal belongings to make sure nothing is forgotten.
Arrange New Utilities
Get in touch with your gas, electricity, and water suppliers to inform them that you will be moving. You can also register with a new broadband provider before you go. One top tip is to take the energy meter reading on moving day, which will make sure you won't be overcharged by your energy company.
Pack Up As Early As Possible
Although living out of boxes for a few weeks might not be considered great fun, making this sacrifice for a short period will make things so much easier on your moving day. Packing up and labelling belongings and making sure your house is clear early in advance will save you from frantic last-minute attempts to box up belongings, which could leave room for mix-ups or damage.
Making sure you have a clear and clean property for new tenants before you go is another crucial part of your big move. Bellview Transport also offers a house clearance service that will remove contents from your property and leave it in an immaculate condition.
Hopefully, these tips will make your move a lot less stressful and help you to understand the importance of using a good home removals company to help you. Get organised early and the rest should fall into place.
If you would like to find out more about home removals in Oxford, then please get in touch with us today on 01865 744993, or visit our contact page.